Lycium sweet nature, Ping, owned by the liver and kidney, with nourishing liver and kidney, Liver eyesight effect, often with Rehmannia, chrysanthemum, yam, cornus and other drugs with the use. Modern medical research shows that it contains the carotene, betaine, vitamin A, vitamin B1, vitamin B2, vitamin C and calcium, phosphorus, iron, etc., with increased white blood cell activity and promote hepatocyte regeneration pharmacological effects of modern pharmacological experiments show that: Wolfberry has enhanced immune function, inhibition of tumor, lowering blood sugar, lipid-lowering, anti-fatigue and other functions. "Materia Medica remarks," that medlar can make "gas can be filled, blood can make up, Yang can be health, Yin can be long, rheumatoid can go, there are ten wonderful Yan." In the "Compendium of Materia Medica," the main Chinese wolfberry Efficacy summarized as "Kidney, lungs, eyesight," concise, in line with reality. Kidney Yin deficiency, lack of liver blood, causing Yaoxisuanruan, dizziness, tinnitus, nocturnal emission embolism, should use medlar.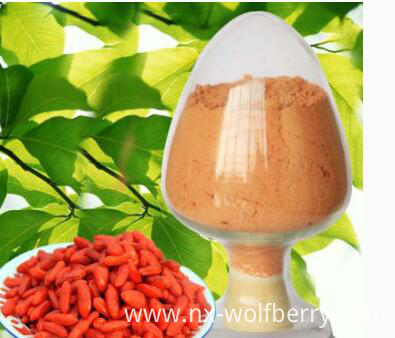 Please feel free to leave us message.
Any inquiry would be replied within 2 hours on working days!

Production Specification Sheet
| | | | |
| --- | --- | --- | --- |
| Product Name | | Country of Origin | Ningxia in China |
ANALYSIS

SPECIFICATTION

TEST METHODS

Product Name

FD Goji Powder

SD Goji Powder

Color

Orange-yellow or Orange-red

Organoleptic Inspection

Odor

Characteristic, no other odor

Organoleptic Inspection

Taste

Characteristic

Organoleptic Inspection

Characters/Appearance

Fine particles or powder, slightly caking

Organoleptic Inspection

Impurity

No visible foreign material

Organoleptic Inspection

Loss on drying/Moisture(%)

NMT 10.0

NMT 8.0

GB5009.3

Total Sugar(glucose%)

NLT 40.0

NLT 20.0

GB/T18672

Protein(%)

NLT 4.0

NLT 4.0

GB5009.3

Leads(Pb) mg/kg

NMT 0.5

NMT 1.0

GB5009.12

Arsenic(As) mg/kg

NMT 0.3

NMT 0.5

GB/T5009.11

Total Plate Count(cfu/g)

NMT 30000

GB4789.2

Coliform(MPN/100g)

NMT 90

NMT 30

GB4789.3

Mold(cfu/g)

NMT 25

NMT 20

GB4789.15

Yeast(cfu/g)

NMT 25

NMT 20

GB4789.15

Pathogen

Negative

GB4789.4, GB4789.5, GB4789.10, GB/T4789.11
| | |
| --- | --- |
| Shelf Life | 12 months if stored in a cool ventilated dry place |
| Storage | It should be stored under cool, well ventilated, and dry condition |
| Package | Internal: Double composite bag. External: Carton |
Save