Goji Juice is the use of fresh fruit as raw material, processed products. Goji juice can also be subdivided into flesh drinks, fruit pulp, 100% Chinese Wolfberry Juice, Chinese wolfberry drinks and other types, most of them using the beating process of fruit or fruit edible part processed into unfermented but fermentable slurry, or in the concentrated pulp added to the pulp in the loss of natural concentration Water Equivalent to water, made with the original fruit pulp color, flavor and soluble solids content of the product. 100% Chinese wolfberry juice is non-concentrated reduced wolfberry juice, to maximize the retention of the wolfberry fruit nutrients, while eliminating any ingredients and additives, is a green safe, non-added food.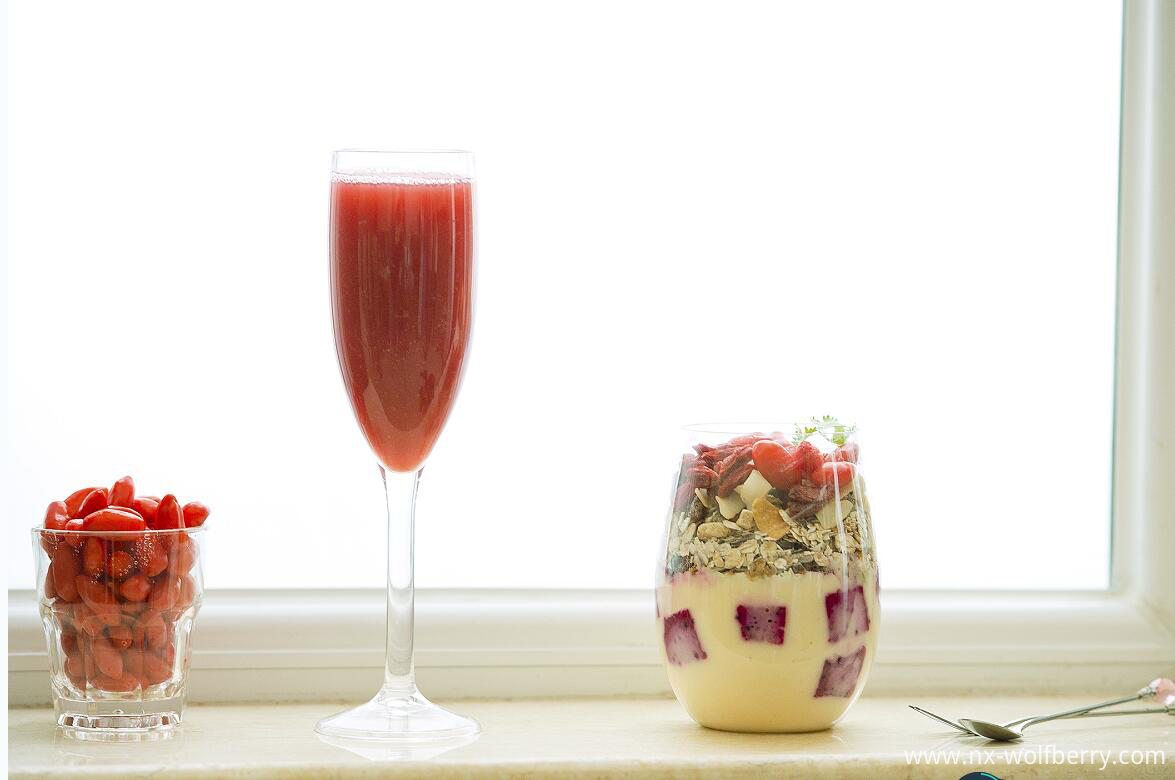 Production Flow Chart:
Fresh Goji Berry Picking → Goji Berry Acceptance →Goji Berry Surface Cleaning →Rinsing Goji Berry by Drinking Water →Rinsing Goji Berry by Pure Water →Crushing →Separation of the Juice and Pulp →Grinding by Colloid Mill →High Pressure Homogeneity →(Vacuum Concentration) → Sterilization →Aseptic Filling → Package →Inspection →Finished Product.
Please feel free to leave us message.
Any inquiry would be replied within 2 hours on working days!

Production Specification Sheet
| | | | |
| --- | --- | --- | --- |
| Product Name | Goji Juice | Country of Origin | Ningxia in China |
ANALYSIS

DESCRIPTION

TEST METHODS

Product Name

Conventional

Goji Juice

Conventional Contracted

Goji Juice

BRIX

NLT 13

NLT 36

Organoleptic Inspection

Color

Bright auburn or Purple red

Organoleptic Inspection

Smell and Taste

Characteristic

Organoleptic Inspection

Texture

The fruit pulp contains, a period of few days the juice will appear pulp precipitation

Organoleptic Inspection

Total plate count(cfu/ml)

NMT 1000

GB4789.2

Salmonella

Absence

GB/T 4789.4

Staphylococcus

Absence

GB 4789.10

Pb, mg/kg

NMT 0.5

GB 5009.12

As, mg/kg

NMT 0.5

GB/T 5009.11

Cu, mg/kg

NMT 10.0

GB/T 5009.13

Pesticide Residue

Absence

NMT 0.2ppm

GB/T 19648-2006,

GB/T 200769-2008
| | |
| --- | --- |
| Shelf Life | 12 months if stored in a cool ventilated dry place |
| Package | 210kg/drum.,Internal: double aseptic bag. External: Drum |
| Storage | It should be stored under the dry and ventilated environment |
Save