Freeze Drying The full name is Vacuum Freeze Drying, also known as Drying by Sublimation. It is used to freeze the liquid material into a solid. Under the conditions of low temperature and pressure reduction, the sublimation performance of ice is utilized, A method to dehumidify the material to achieve the purpose of drying.
Vacuum freeze-drying to a large amount of water-containing substances, pre-cooled to freeze the solid. The water vapor is then sublimed directly from the solids under vacuum while the material itself remains in the ice shelf when it is frozen, so it dries and remains unchanged in volume and becomes porous with good rehydration performance. Freeze-dried vegetables or foods, its most important feature is to retain the color, smell, taste, shape and original nutrients of nutrients, also known as aerospace food, is today's natural, green, safe and nutritious food.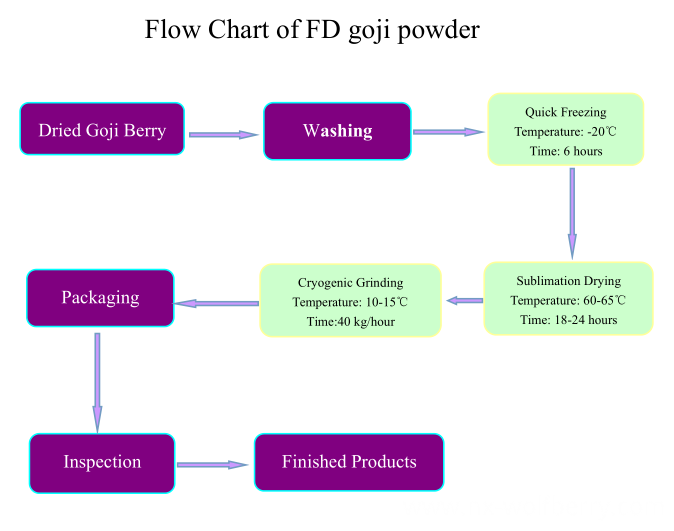 Please feel free to leave us message.
Any inquiry would be replied within 2 hours on working days!

Production Specification Sheet
| | | | |
| --- | --- | --- | --- |
| Product Name | | Country of Origin | Ningxia in China |
ANALYSIS

SPECIFICATTION

TEST METHODS

Product Name

FD Goji Powder

SD Goji Powder

Color

Orange-yellow or Orange-red

Organoleptic Inspection

Odor

Characteristic, no other odor

Organoleptic Inspection

Taste

Characteristic

Organoleptic Inspection

Characters/Appearance

Fine particles or powder, slightly caking

Organoleptic Inspection

Impurity

No visible foreign material

Organoleptic Inspection

Loss on drying/Moisture(%)

NMT 10.0

NMT 8.0

GB5009.3

Total Sugar(glucose%)

NLT 40.0

NLT 20.0

GB/T18672

Protein(%)

NLT 4.0

NLT 4.0

GB5009.3

Leads(Pb) mg/kg

NMT 0.5

NMT 1.0

GB5009.12

Arsenic(As) mg/kg

NMT 0.3

NMT 0.5

GB/T5009.11

Total Plate Count(cfu/g)

NMT 30000

GB4789.2

Coliform(MPN/100g)

NMT 90

NMT 30

GB4789.3

Mold(cfu/g)

NMT 25

NMT 20

GB4789.15

Yeast(cfu/g)

NMT 25

NMT 20

GB4789.15

Pathogen

Negative

GB4789.4, GB4789.5, GB4789.10, GB/T4789.11
| | |
| --- | --- |
| Shelf Life | 12 months if stored in a cool ventilated dry place |
| Storage | It should be stored under cool, well ventilated, and dry condition |
| Package | Internal: Double composite bag. External: Carton |
Save